"Suddenly people had us on their radar" - Producer Al Majeed in interview

Berlin-based producer Al Majeed has made a name for himself in the past with his productions for artists from the underground. He has collaborated with Big Toe, Lucio101, Nizi19, Kasimir1441 and the Saftboys, among others. In an interview, Al Majeed told us how his albums came about, what music inspires him and what we'll be hearing from him in the near future.
---
As a follow-up to the album "Spieler & Händler Vol. 1" from 2017, the album "Spieler & Händler Vol. 2" was released in May this year. How did the album come about?
Al Majeed: The album was created in the period from October 2020 - February 2021. I had planned the second part "Players & Merchants" for some time. Unfortunately, it had never fit in time, because I concentrated on the other artists from my environment. For the album I had 2 or 3 beats lying around, which I distributed among the artists. Other than that, I did everything else for the album in sessions. With every artist that's on the tape, I'm also working directly on their projects.
Did you know before the productions which artists will be involved in the album? How can you imagine the artist selection?
Al Majeed: I knew more or less who was going to be involved. I had made a plan for how I would coordinate the selection. In the end, the people in the selection are exactly the people I work with anyway. So it's all very natural. I didn't think too much about it.
How did your own sound develop? Which personalities and influences have shaped you?
Al Majeed: That's hard to say. When I was little, I actually listened to every kind of music. I started playing drums when I was 11 years old. I continued playing until I was 16 or 17 years old. In between I started with beats. I have a lot of influences e.g. by Boom Bap or by the Berlin underground. This includes people like Frauenarzt and Bushido. But I was also influenced by the French corner, until I finally came to Fatal. Fatal influenced me with the southern sound from America. That was the music that I then continued to follow. I like Three 6 Mafia and Project Pat, but also everything that comes out of that space today inspires me. For example, Paper Route Empire, 1017 Records and Pyrex. But I also get inspired by other genres of music. Coming from sampling, I listened to a lot of music that has nothing to do with hip hop. My mother listened to a lot of RnB, for example, and so did I in my childhood.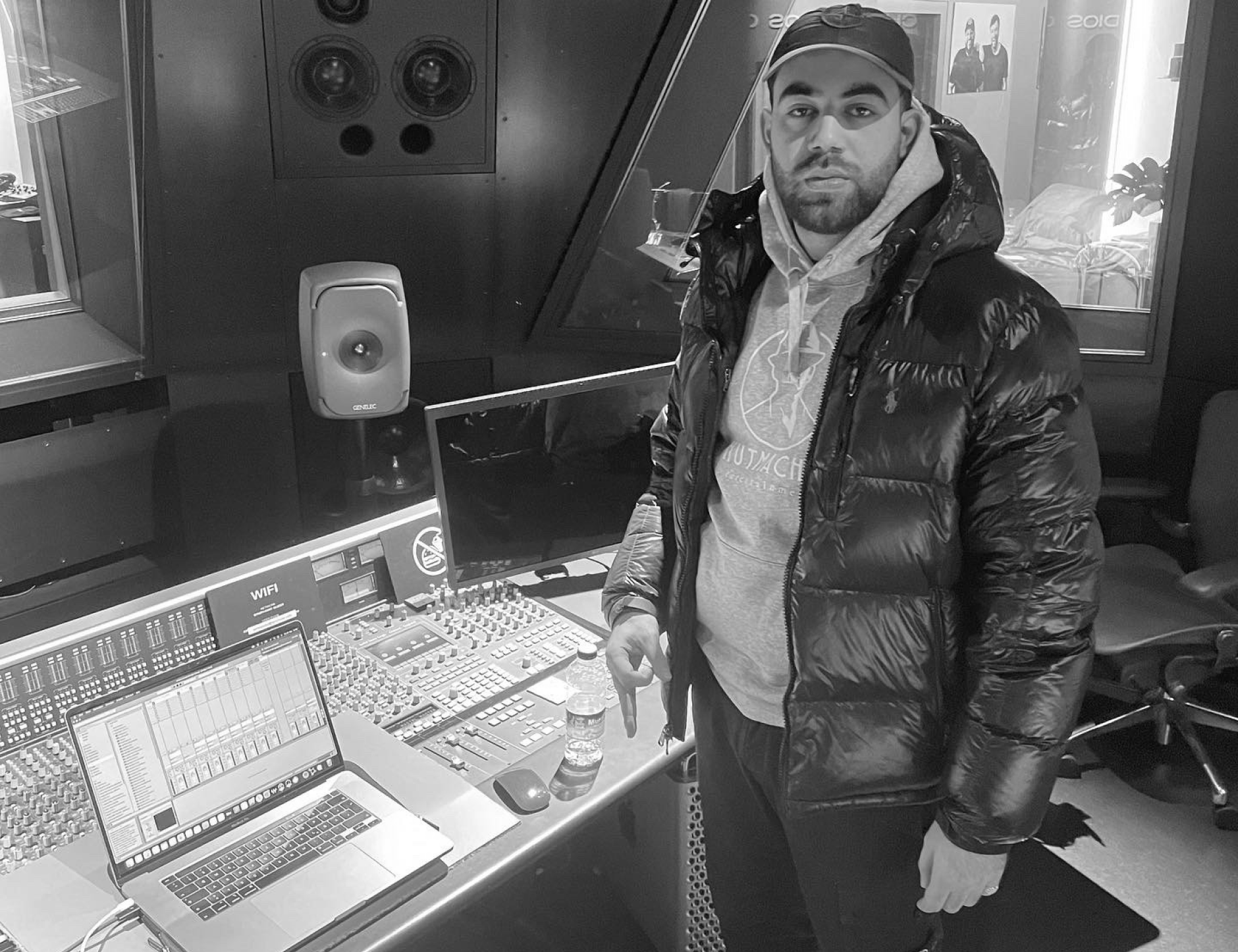 You often collaborate with artists from the Berlin underground. What do your sessions look like?
Al Majeed: We usually arrange to meet during the week. I make more or less fixed appointments and then coordinate week by week with whom externally I work together.
How did your beginnings as a producer feel? With which song were you able to make a name for yourself?
Al Majeed: The beginning was not easy. I started making beats in 2008. At that time I had no intentions to do something big with it. My dream was just to do something with music later on. But I was also realistic. After graduating from high school, I started an apprenticeship and studied. But in my free time I always made music. I also worked with the Saftboys back then. We were underground and had no clicks. Really no clicks at all. But that didn't matter to us either. We made videos because we thought it was funny. Then we burned the videos on DVD and gave them to our friends. In 2012, I met Fatal. He connected me with a lot of people. We were always in close communication and he showed me many things. Then in 2016 I made a beat tape with a buddy. A year later, I started "Player & Dealer Vol. 1" just for fun. In the process, we also produced the song "Where's the Quarter?" and shot a mobile video for it, which we uploaded to YouTube. Within a month, the video had 100,000 clicks and suddenly people had us on their radar.
What are your plans for the future in the music industry?
Al Majeed: I'm going to release another tape, but it won't be "Player & Dealer Vol. 3", it'll be an EP. Also, the guys from my label will be releasing some stuff. There will be an album coming from Big Toe. There will also be various other projects that I'm involved in.
---

Social Media Al Majeed: Instagram